The weather was perfect!!!! I had really wanted to be under 23 minutes, but I feared the hill at the end..... see, the last 0.3 miles of the run is all up hill!!!! Literally!!! Andddddd, I am not a great hill climber!! Major weakness! Anyway, I was, overall, happy with my run. I tried to keep a consistent pace, and my mile splits were as follows: 7:19, 7:24, 7:31.... I ended up with an official posted time of 23:05. My garmin said 23:06. Although I didn't get my goal time for the day, I did PR the course! So, win! I will take the PR. I also managed to snag 1st in age group!! Andddddd, the awards were awesome!!! The awards were framed art work of 4th graders at the school!!! How cool is that!!! One mom placed in her age group and was able to select her own child's art work!!! How awesome is that?!!!!!
Of course, the best part of any 5K, or any run for that matter, is seeing running friends!!!!
Above, my friend Lisa is back!!! Finally recovered from a running injury!!! Was so good to have her back!!!!!
Yeah, when the Chick-Fil-A cow is at the 5k, you must get a photo, right?!! LOL! :D
Top Sponsors were knowledge on these AWESOME painted boards!!! Pretty neat!!! Can't imagine the time it took to make these!!!!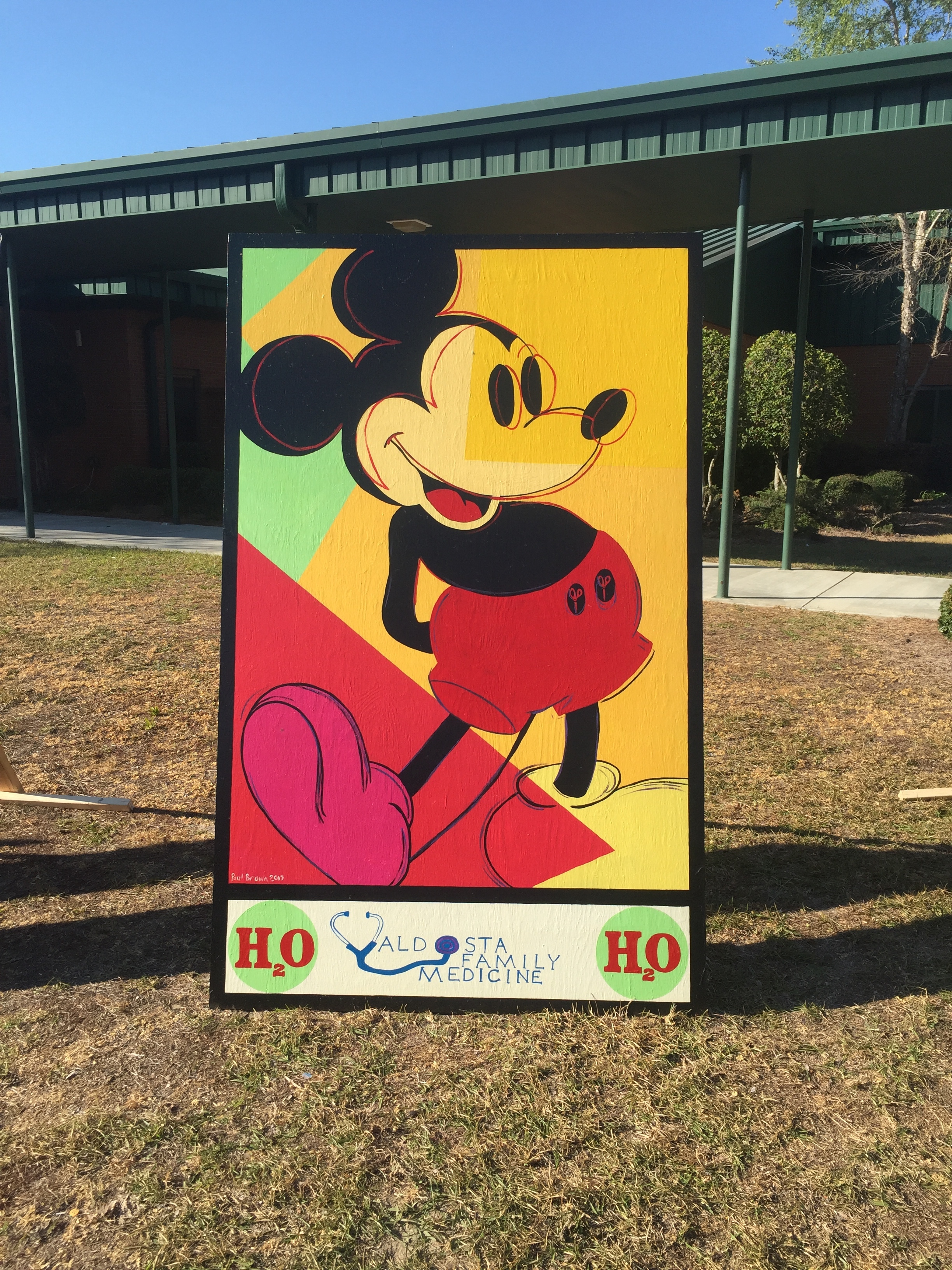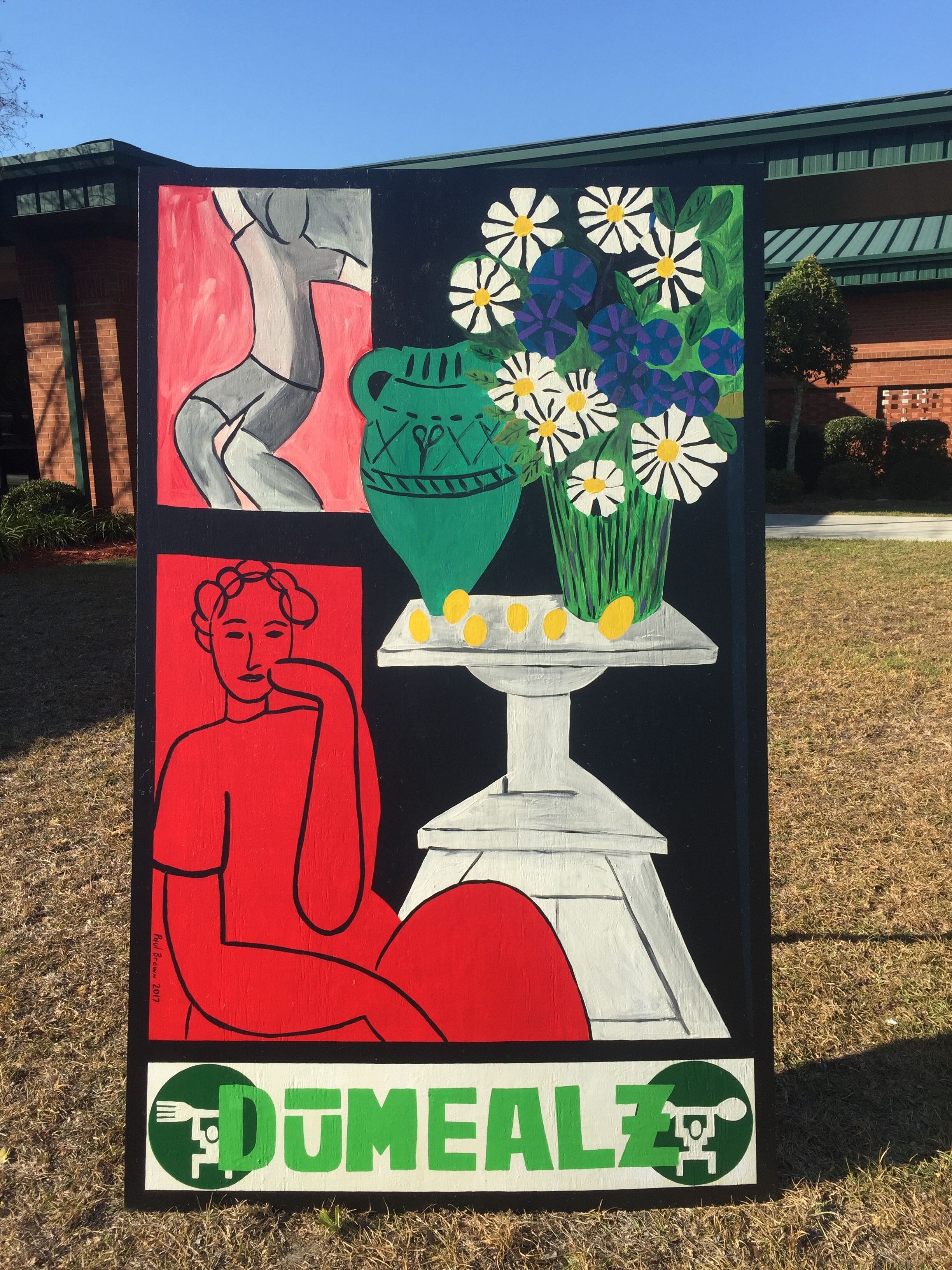 Today's long run went by SUPER fast.... I ran with my friend Brandy. We chatted and the time flew!!! Break down of the run is as follows:
Goal target pace was to be between 9:30-9:55
12.01 miles at an average pace of 9:41
Mile 1- 11:02 (warm up mile)
Mile 2- 9:31
Mile 3- 9:12
Mile 4- 9:25
Mile 5- 9:12
Mile 6- 9:06 (yeah, I know-- too fast, but honestly, you get to talking and not paying attention to garmin... oops!)
Mile 7- 10:00 (made up for being too fast in previous miles...LOL)
Mile 8- 9:38
Mile 9- 9:44
Mile 10- 9:58
Mile 11- 9:46
Mile 12- 9:31
**Then, it was time for grocery shopping and to tackle the never ending laundry!!!! Not so fun ! Waaaaaaaaa!
Relaxing Sunday Afternoon
My son and hubster went fishing in the pond...... well, they tried to fish in the pond.... the fish were not biting today. My hubby kicked back as my son worked hard on paddling the boat!!! LOL! Can't be unfair child labor if the child loves it, right?!!! HA! HA! :D
Beavers are amazing
I think beavers are the most amazing creatures!!! They build can build a dam like this one pictured in no time!!!!! And, just how do they even build against running water? It truly baffles me! We have to constantly knock these out, otherwise, it floods the surrounding land. Crazy, right?
Anddddd, the branches are so neatly and placed in an exact manner.... seriously, isn't this mind boggling?
Ok, gotta run.... the nightly "get ready for work and school" routine is in full gear now..... hope everyone had a great weekend!!!!!
UNTIL LATER........................
*********************************
Ever receive an unusual, but super cool race award?
How was running this weekend? Training runs? Racing? Do share! Love to hear.......
Recipes? Tried any great ones lately.... please share.......